North Iceland
Area 34,705 km2 (13,400 sq mi)
Population (2007) 36428
Density 1.9/km2 (5/sq mi)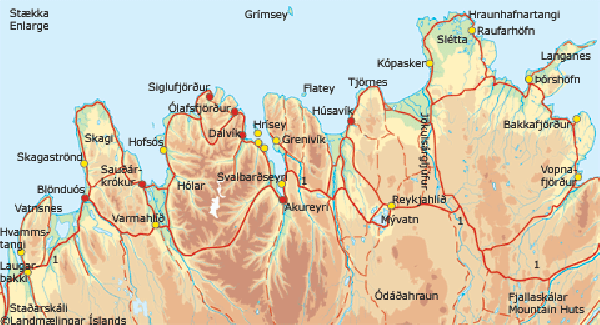 Maps North Iceland:
Nortwest Hvamstangi to Blonduos Area – Skagafjordur Area – Akureyri & Eyjafjordur Area
Husavik To Akureyri Area – Kopasker, Raufarhofn to Thorshofn Area – Myvatn Area
The largest urban area in the North of Iceland is Akureyri, which is the second largest urban area in the country. Akureyri is located in Iceland's longest fjord, Eyjafjordur.
Marine life is common in the north and many towns are dedicated to the sea. Husavik is often called the whale watching capital of Iceland and boosts an impressive Whale Museum. Hvammstangi has a Seal Center and Siglufjordur has a long history of herring fishing, usually called The Herring Adventure.
Other attractions are Lake Myvatn, where some scenes for TV series Game of Thrones were filmed, Asbyrgi Canyon and the Dettifoss waterfall, the most powerful waterfall in Europe.
Quick reference guide for North Iceland
According to the Book of Settlements and the Sturlunga Saga, many murders, executions and slayings took place in Iceland.
Towns – Villages – Communities Alphabetically in Iceland
Photo Credit: islandsstofa
North Iceland to see and do.
Get an education when travel:
WHAT TO SEE?

in North Iceland
WHAT TO DO?

in North Iceland
WHERE TO STAY?

North Iceland