Geography and nature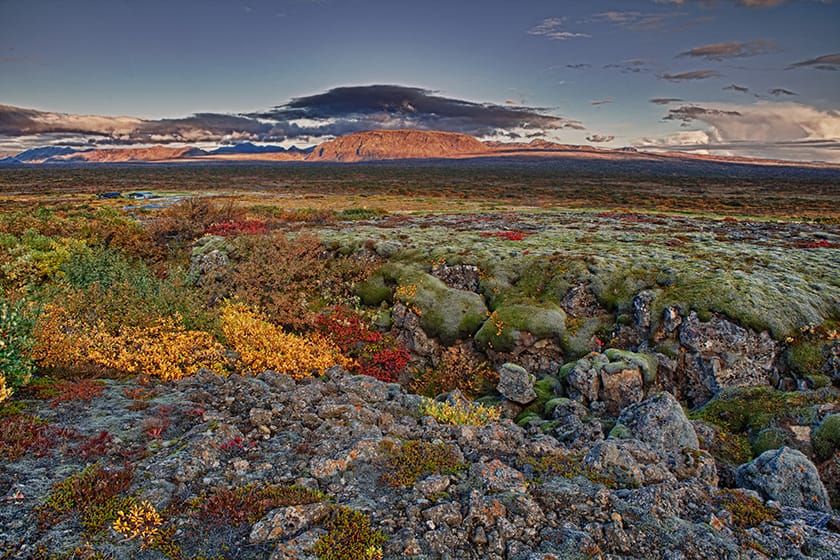 About Iceland's Geography and Nature
Iceland is an island in the Atlantic Ocean, located near the Arctic Circle, between Greenland and Norway. An island of 103.000 km2 (40,000 square miles), it is about the same size as Hungary and Portugal, or Kentucky and Virginia. Iceland is the second largest island in Europe, following Great Britain, and the 18th largest island in the world. The coastline is 4,970 km, and Iceland maintains a 200 nautical-miles exclusive economic zone. It takes approximately five hours to fly from New York to Reykjavík, and three hours from London.
Iceland is one of the youngest landmasses on the planet, and consequently home to some of the world's most active volcanoes. The island owes its existence to a large volcanic fissure in the Mid-Atlantic Ridge, where the Eurasian and American tectonic plates meet. Even today, the country is growing by about 5 cm per year, as it splits wider at the points where two tectonic plates meet.
In 2010 Eyjafjallajökull volcano erupted and in 2011 Grímsvötn. The latest volcanic eruption was in Holuhraun from August 2014 to February 2015. The eruption produced a lava field of more than 85 km2 (33 sq mi) and 1.4 km3 (0.34 cu mi) – the largest in Iceland since 1783.
Iceland's highest peak is Hvannadalshnjúkur, standing 2.110 metres (6841 ft) over sea level. and over 11 percent of the country is covered by glaciers, including Vatnajökull, the largest in Europe. Its land mass comprises glaciers (12,000 km2), lava (11,000 km2), sand (4,000 km2), water (3,000 km2) and pasture (1,000 km2).
Iceland is the least populated country in Europe. Almost 80% of the country is uninhabited, and much of its terrain consists of plateaux, mountain peaks, and fertile lowlands. There are many long, deep fjords and glaciers, including Europe's largest, Vatnajökull. Its landscape's is characterized by waterfalls, geysers, volcanoes, black sand beaches and otherworldly steaming lava fields.
Iceland has very mild, coastal weather, stemming from the Gulf Stream. The weather is also affected by the East Greenland polar current curving south-eastwards round the north and east coasts. The average summer temperature in Reykjavik is 10.6°C/51°F in July, with average highs of 24.3°C/76°F. The average winter temperature in Reykjavik is similar to New York City's, about 0°C/32°F in January (average highs are 9.9°C/50°C). The weather can be very unpredictable and often changes in an instant.
Source and photo: www.iceland.is
and www.nat.is
Articles in
Geography and nature
The Atlantic puffin The Atlantic puffin comes to Iceland for nesting in... more