Deildartunguhver
Region:
West Iceland
Coordinates:
64.6643° N 21.4117° W
About Deildartunguhver
This is probably the most voluminous natural hot spring of the world. Its average flow of 98°C hot water is 180 litres per second, about 40% of the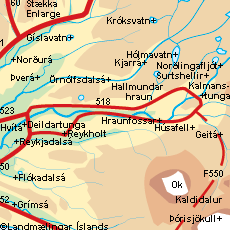 natural hot spring water appearing on the surface in the Borgarfiord District. An inviolate variety of the hard fern (blechum spicant), not found elsewhere, thrives by the hot spring. The hot spring is exploited for house heating in the towns Akranes, 39 miles (64 km) away, and Borgarnes, 21 miles (34 km) away, and at a few farms.
Horticulture is an important part of the agricultural activities in the area. The disease Para pneumonia, which plagued the sheep stock of the country
Back to nature!!!
Popular bating lagoons in Iceland:
Main Photo Credit: Visit West Iceland
Travel Guide Borgarfjordur

Get an education when travel:
WHAT TO SEE?

Nearby Deildartunguhver
WHAT TO DO?

Nearby Deildartunguhver
WHERE TO STAY?

Nearby Deildartunguhver