Bifrost
Region:
West Iceland
Coordinates:
64.7667077° N 21.5518069° W
Weather:
°C, Wind at km/h, % Humidity
Population:
251
Bifrost Borgarfjordur
Bifrost is an ideal stopover for travellers in the Borgarfjordur district. The craters, lava field, and mountainous surroundings are unique. The 3600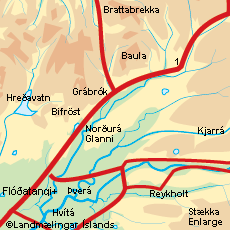 years old lava field is vegetated with mosses, lichens, berries, willow and birch and there are a few hiking trails through this rugged and impressive landscape.
Rhyolite intrusion, the cone shaped Mt. Baula, is very conspicuous in the background. According to the legend, there is a pond containing a wishing stone on top of it. The larger of the two main craters and Mt. Baula are well worth climbing on a fine day. The lava field and the craters are a nature reserve. Those, who stay at the hotel overnight, might consider the possibility of buying a fishing permit for the beautiful lake Hredavatn nearby. If you are headed north, you have the moorland Holtavorduheidi (407m; current camera view) ahead of you and should take a look at the weather and road conditions before crossing.
Photo Credit: Bifrost.is
Get an education when travel:
WHAT TO DO?

Nearby Bifrost
WHERE TO STAY?

Nearby Bifrost