Sturlureykir
Region:
West Iceland
Coordinates:
64.6667° N 21.3833° W
About Sturlureykir
Sturlureykir is a farm in the Reykholt Valley in the Borgarfjordur District.
One of the farmers, Erlendur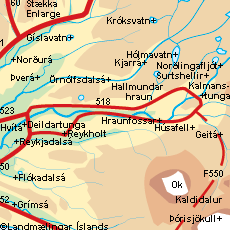 Gunnarsson (1853-1919), wanted to exploit one of the hot springs near his farm for
house heating and other purposes, but they were all on lower ground than the farm houses.
He built a concrete cover on top of one of them and pipelined the steam into his house, where he had also built a special herd of concrete, where the family could cook all their meals. He was the first farmer in the area to exploit this source of energy this way.
Sturlureykir is on nat.is West Iceland Saga Trail
WHAT TO SEE?

Nearby Sturlureykir
WHAT TO DO?

Nearby Sturlureykir
WHERE TO STAY?

Nearby Sturlureykir