Travel Guide Borgarfjordur
Region:
West Iceland
Coordinates:
64.66568° N 21.3171° W
Quick reference travel guide Borgarfjordur:
Hvanneyri is a hamlet, a university faculty for agriculture, an agricultural college, and a parsonage. The present church was built and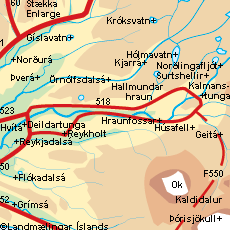 consecrated in 1905. Its altarpiece shows Jesus with the local landscapes in the background. Daldtunguhver is probably the most voluminous natural hot spring of the world. Its average flow of 98°C hot water is 180 litres per second, about 40% of the natural hot spring water appearing on the surface in the Borgarfiord District.
Reykholt is one of the most important historical places in Iceland and a cultural centre for centuries. Here was the home of Snorri Sturluson, the chieftain and historian, from 1206 until 1241, when he was slain by his enemies. Husafell is in one of Iceland's few woodlands and is therefore popular among the natives. Enroute are Hraunfossar and Barnafoss waterfalls, where nature seems to have been playing at wonders. Surtshellir, one of Iceland's largest lava caves, are operated in the area.
Borgarfjordur main attractions: Borgarnes, Hvanneyri, Deildatunguhver, Reykholt, Hraunfossar, Husafell, Surtshellir
You can also continue to Thingvellir National Park via Kaldidalur (Summer only)
Map Borgarfjordur
Borgarfjordur is also part of West Iceland see:
Travel Guide around Snaefellsnes
Travel Guide Dalir area
Travel Guide Borgarfjordur in Icelandic
WHAT TO SEE?

Nearby Travel Guide Borgarfjordur
WHAT TO DO?

Nearby Travel Guide Borgarfjordur
WHERE TO STAY?

Nearby Travel Guide Borgarfjordur