Travel Guide Dalir area
Region:
West Iceland
Coordinates:
65.1582° N 21.7679° W
Quick reference travel guide Dalir area
Many interesting places of interest / historical sites can be explored in Dalir area,  number of rivers and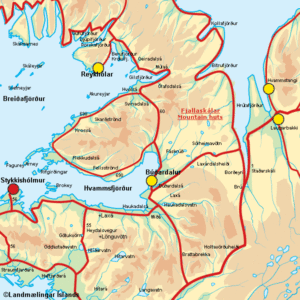 lakes offer excellent trout, char and salmon fishing.  Laugar  in Dalir was a school centre and now a newly built and renovated summer hotel in friendly environments is operated there.
Budardalur is a small village at the head of Hvammsfiordur Bay
Eiriksstadir is an abandoned farmstead in the Haukadalur valley.
According to the Eric Saga and the Greenlander Saga, Erik the red lived in Eiriksstadir. He was the father of Leif the lucky, who discovered North America in the year 1000.
Dalir main attractions:
Laugar– Eiriksstadir – Haukadalur– GUDRUNARLAUG-NATURAL POOL– Olafsdalur –  Krossholar – Jorfi
Get an education when travel:
WHAT TO SEE?

Nearby Travel Guide Dalir area
WHAT TO DO?

Nearby Travel Guide Dalir area
WHERE TO STAY?

Nearby Travel Guide Dalir area