Husafell
Region:
West Iceland
Coordinates:
64.6996417° N 20.8726515° W
Husafell is in one of Iceland's few woodlands and is therefore popular among the natives. Enroute are Hraunfossar and Barnafoss waterfalls, where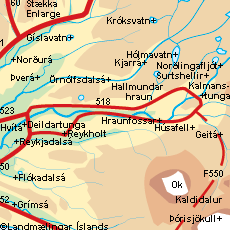 nature seems to have been playing at wonders. Daily tours on the glacier Langjokull and to Surtshellir, one of Iceland's largest lava caves, are operated in the area.
The Husafell area around Farm Husafell is a very popular summer resort among the natives. It is a lovely, wooded lava area with many holiday houses, a nice swimming pool and a sauna, a small restaurant, a small shop, a petrol station, a golf course, a horse rental and organized walks and longer tours, such as glacier excursions and lava cave explorations. In addition, holiday houses are rented and camping grounds are available.
The natural hot water for the swimming pool and other uses is pipelined from the hot springs in the Selgil gorge nearby. The hot water is very soft and has healing qualities. Archaeological excavations on the property have revealed ruins of farms from the 14th and 15th centuries, which give us a good idea about the architecture of the time and how people lived. One of the occupants of Husafell during the latter part of the 18th century, actually the forefather of the present occupants, was Rev. Snorri Bjornsson. He had moved there from his parish in the utmost northwest, a very isolated area.
There are said to have been quite a few sorcerers there at the time, and some of them were the enemies of Rev. Snorri. After Snorri moved to Husafell
they kept raising the dead and sending their ghosts to kill Snorri. He was well educated in the field of sorcery himself and put all of them, 81 they say, down around the so-called ghost-pen near the farm, and ensured that they would keep still. He was a very strong man and kept physically fit by exercising every morning with his grandmother. Among the exercises was carrying a 180 kg heavy bolder around the sheep-pen several times, which was almost impossible for others to repeat. The old farm has been renovated and is used to accommodate visitors with sleeping bags or in made up beds. The old church has also been renovated and belongs to the farm, not the parish.
You can also continue to Thingvellir National Park via Kaldidalur (Summer only)
Photo Credit: Visit West Iceland
Get an education when travel:
WHAT TO SEE?

Nearby Husafell
WHAT TO DO?

Nearby Husafell
WHERE TO STAY?

Nearby Husafell