Borgarnes
Region:
West Iceland
Coordinates:
64.5609° N 21.9010° W
Weather:
°C, Wind at km/h, % Humidity
Population:
1,875
Borgarnes
The small town Borgarnes and a few neighbouring communities were united under the name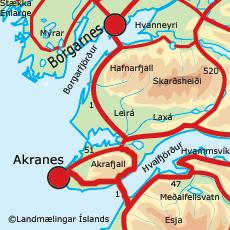 Borgarbyggd. According to The Egil's Saga the area occupied by the town was called Digranes and west of it is the island Brakarey connected to the mainland by a bridge. The island was named after Egil's slave Thorgerdur brak after he drowned her in the sea near it. The town is among the friendliest towns in Iceland with all necessary services for the travellers, golf, angling, hunting, good swimming pools, hotels, guesthouses, historical sights and camping grounds. The scenic beauty of the area is very inviting and it abounds in hot springs, lakes, rivers and beautiful waterfalls.
Travel Guide around Snaefellsnes
Travel Guide Borgarfjordur area
Photo Credit: Visit West Iceland
Get an education when travel Borgarfjordur:
WHAT TO SEE?

in Borgarnes
WHAT TO DO?

Nearby Borgarnes
WHERE TO STAY?

Nearby Borgarnes