GOLF CLUB LEYNIR Akranes
Region:
West Iceland
Coordinates:
64.36° N 22.03° W
Golf Club Leynir was founded on March 15th 1965.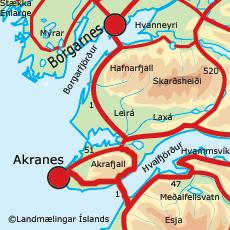 Akranes ranks among the largest fishing ports in Iceland and fishing and fish processing provide for a large part of the livelihood. Heavy industry is also considerable, such as an alloy plant and an aluminium smelter at Grundartangi nearby. Shipbuilding and maintenance and other light industries are known throughout the country for professionalism. Commerce and trade are also thriving and the tourist trade is well organized and offers a variety of tours and entertainment, such as golf, sea angling, lake char, brown trout and salmon fishing and pony trekking, to name a few.
WHAT TO SEE?

Nearby GOLF CLUB LEYNIR Akranes
WHAT TO DO?

Nearby GOLF CLUB LEYNIR Akranes
WHERE TO STAY?

Nearby GOLF CLUB LEYNIR Akranes