GOLF CLUB BORGARNES
Region:
West Iceland
Coordinates:
64.5709° N 21.9710° W
Golf Club Borgarnes was founded January 21st 1973. Three years later a part of farm Hamar's property was leased for a period of 25 years for the golf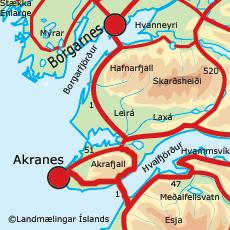 course. In 1978 the farmer's family home was contracted to the club. After its restoration it offers all necessary facilities for club members and accommodation for travellers as well. The golf course is now considered among the most interesting ones in the country.
Golf Club Borgarnes in Icelandic
WHAT TO SEE?

Nearby GOLF CLUB BORGARNES
WHAT TO DO?

Nearby GOLF CLUB BORGARNES
WHERE TO STAY?

Nearby GOLF CLUB BORGARNES