Blonduos
Region:
North Iceland
Coordinates:
65.6600925° N 20.2796587° W
Weather:
°C, Wind at km/h, % Humidity
Population:
881
The village Blonduos lies on the western and eastern banks of River Blanda, and Road #1 runs through across the river. Shops, light industry, meat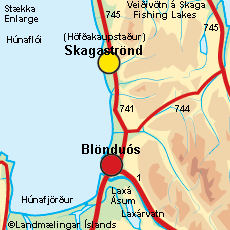 processing, an abattoir, and a dairy are the main sources of employment in Blonduos as well as a growing tourist sector. Fishing and fish processing are also increasing in spite of the poor harbour conditions and limited facilities. River Blanda is one of the country's popular salmon rivers. Other salmon rivers are in the vicinity and good trout and char fishing in nearby lakes and streams.
What to see and do in Blonduos
Quick reference travel guide North West Iceland
Blonduos is a good starting pound for Arctic Coast Way 2
Photo Credit: Visit North Iceland
Get an education when travel:
WHAT TO DO?

Nearby Blonduos
WHERE TO STAY?

Nearby Blonduos