GOLF CLUB BLONDUOS
Region:
North Iceland
Coordinates:
65.6700925° N 20.2696587° W
Golf Club Os' golf course is situated in beautiful surroundings of an abandoned farm, Vatnahverfi, about 3 kilometres outside the village Blonduos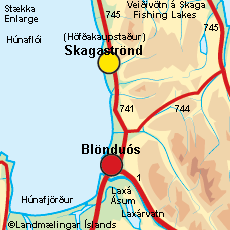 on the road to village Skagastrond further north. In its vicinity are several fishing lakes, ideal for those who bring their fishing gear along.
Blonduos lies on the western and eastern banks of River Blanda, and Road #1 runs through town across the river. Shops, light industry, meat processing, an abattoir, and a dairy are the main sources of employment in Blonduos as well as a growing tourist sector.
WHAT TO SEE?

Nearby GOLF CLUB BLONDUOS
WHAT TO DO?

Nearby GOLF CLUB BLONDUOS
WHERE TO STAY?

Nearby GOLF CLUB BLONDUOS