GOLF CLUB MYVATN
Region:
North Iceland
Coordinates:
65.6139° N 16.9961° W
Lake Myvatn is the country's fourth largest natural lake. It abounds in lake char and is netted by the farmers the whole year round. The lake area is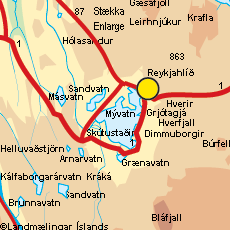 known world wide for its exceptionally many breeding duck species (15) and the abundance of other avifauna. The lake's surroundings show such variety in landscapes and amazing geological formations, that the visitors have to spend several days there to enjoy them fully. This area is extremely volcanic.
WHAT TO SEE?

Nearby GOLF CLUB MYVATN
WHAT TO DO?

Nearby GOLF CLUB MYVATN
WHERE TO STAY?

Nearby GOLF CLUB MYVATN