VOGAFJOS FARM RESORT Myvatn
Region:
North Iceland
Coordinates:
65.6139° N 16.9461° W
Welcome to Vogafjós Farm Resort
The resort is located on the east coast of lake Mývatn. It consists of a cosy family-owned guesthouse, a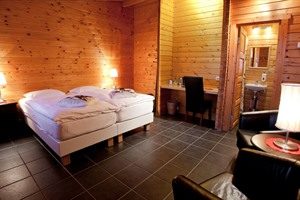 restaurant next to a cowshed and a small boutique with unique local products.
The guesthouse is located in a beautiful area, surrounded by lava rocks and birch trees. It is the perfect location for northern lights scouting. In good conditions the lights can be seen easily from outside the rooms. All our rooms have a private bathroom and a wireless internet connection. The reception is located on the other side of the road, inside Vogafjós Restaurant.
Restaurant
Vogafjós Restaurant is located beside our cowshed. We offer homemade local food such as smoked trout, lamb shanks, beef burgers, mozzarella and salad cheese made from our own milk and our homemade Geysir rye bread which is baked in our underground bakery. The restaurant is fully licensed and specializes in high quality and healthy products. While enjoying your meal you can experience the great view of lake Mývatn or watch through a glass window when the cows are milked, at 7:30 am and 6:00 pm. Guests are also allowed to go inside the cowshed to pet the calves and even try the fresh milk.
Vogafjós Farm Resort is open all year round.
WHAT TO SEE?

Nearby VOGAFJOS FARM RESORT Myvatn
WHAT TO DO?

Nearby VOGAFJOS FARM RESORT Myvatn
WHERE TO STAY?

Nearby VOGAFJOS FARM RESORT Myvatn