Thorshofn
Region:
North Iceland
Coordinates:
66.2013° N 15.3330° W
Weather:
°C, Wind at km/h, % Humidity
Population:
380
This village has been an authorized trading post since 1836. It has a good, natural harbour and the inhabitants base their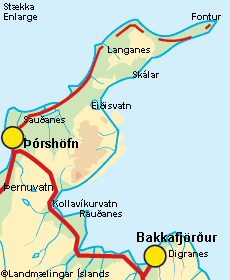 livelihood on fishing, fish processing and commerce. It is situated on the peninsula Langanes, which narrows like a spear point toward northeast and its fowling cliffs have been and still are a means of sustenance for the those, who live there. Nowadays, the area is very sparsely populated. Most farms have been abandoned during the last few decades. Some of the remaining farmers tend the breeding colonies of the eiders and collect their down, clean it and sell at high prices.
There are a few interesting salmon rivers and trout and char lakes nearby.
Photo Credit: Visit North Iceland
Get an education when travel:
WHAT TO SEE?

in Thorshofn
WHAT TO DO?

Nearby Thorshofn
WHERE TO STAY?

Nearby Thorshofn