Bakkafjordur
Region:
North Iceland
Coordinates:
66.0061° N 14.85° W
Weather:
°C, Wind at km/h, % Humidity
Population:
72
The name Bakkafjordur applies to both the bay and the village on its eastern side. It received its trading licence in 1885 and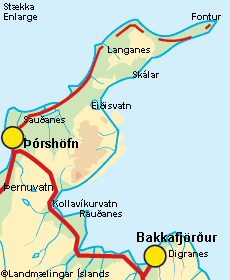 the bases of livelihood are fishing, fish processing, commerce and services rendered to the agricultural surroundings. The old pier and crane are still standing and give an idea about the conditions in the past. The harbour was open to all weathers and the crane was used to hoist the fishing boats into and out of the water every time they went fishing and returned.
The Bakkafjordur community was united with the Thorshofn community in the beginning of April 2006, and thereby shifted from East Iceland to Northeast Iceland.
Photo Credit: Bromr
Get an education when travel:
WHAT TO SEE?

in Bakkafjordur
WHAT TO DO?

Nearby Bakkafjordur
WHERE TO STAY?

Nearby Bakkafjordur