Vopnafjordur
Region:
East Iceland
Coordinates:
65.7462° N 14.8614° W
Weather:
°C, Wind at km/h, % Humidity
Population:
695
The name Vopnafjordur applies to a bay in the northeast and a village on it, which develloped around an ancient trading post. The main bases of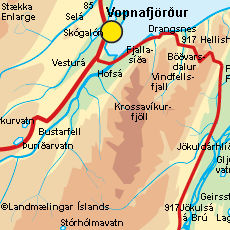 living are fishing, fish processing and commerce. The author Gunnar Gunnarsson staged many of the events of his works in the areas to the west of the village and on his centenary in 1989 his memorial was unveiled in Vopnafjordur. There are many recreational opportunities in this part of the country, good brown trout and char lakes and salmon rivers, a folk museum, good restaurants and accommodations.
Photo Credit: Dickelbers
Quick reference travel guide East Iceland
Get an education when travel:
WHAT TO SEE?

in Vopnafjordur
WHAT TO DO?

Nearby Vopnafjordur
WHERE TO STAY?

Nearby Vopnafjordur