Lonkot Skagafjordur
Region:
North Iceland
Coordinates:
65.991° N 19.4126° W
Guesthouse Ló+onkot is a tourist retreat far out in the north by the arctic ocean. It used to be a farm and the farmhouses were converted into guesthouses and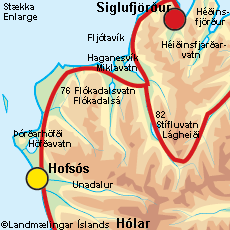 restaurant in 1991-1995 and were renovated 2012-2013. Ló+onkot is a family owned property. The rooms in the former sheephouses and barn loft are all different from each other with really cozy and comfortable, old style feel. The restaurant, bar and lounge is in the former cowshed and has a nice, relaxing atmosphere, view to the mountains and sea. Lonkot offers their guests a local cuisine with the best and fresh ingredients from mother nature depending on what each month provides.
Lonkot is an astonishing place, peaceful and energy loaded by nature's power. Immerse yourself when taking a walk by the ocean or just by closing your eyes and listening. Lonkot is a special and dear place in the family's heart which we love sharing with our guests. Come rejoice!
WHAT TO SEE?

Nearby Lonkot Skagafjordur
WHAT TO DO?

Nearby Lonkot Skagafjordur
WHERE TO STAY?

Nearby Lonkot Skagafjordur