Hofsos
Region:
North Iceland
Coordinates:
65.8975° N 19.4126° W
Weather:
°C, Wind at km/h, % Humidity
Population:
190
About Hofsos
Hofsos is a small, friendly village on the eastern shores of the Skagafjordur Bay and one of the oldest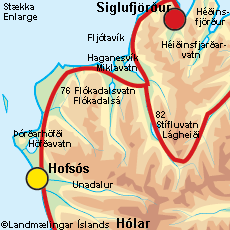 trading posts in Iceland. Trading commenced here over four centuries ago and remainders from this long period of trading can be seen in "Pakkhusid" (the Warehouse), which was built in 1772, close to the end of the Danish trade monopoly (1785) and has since been restored.
The regional folk museum at Hofsos focuses on the mass emigration from Iceland to North America in the late 19th and the early 20th centuries. It is save to say, that the entire village has been renovated, old buildings restored, some of which house old style restaurants. A place worth a visit for those who seek tranquillity in beautiful surroundings.
Hofsos is a mature part of Arctic Coast Way
Photo Credit: Visit North Iceland
Get an education when travel:
WHAT TO DO?

Nearby Hofsos
WHERE TO STAY?

Nearby Hofsos