HOLAR VALLEY HJALTADALUR – DISTRICT SKAGAFJORDUR
Region:
North Iceland
Coordinates:
65.7333615° N 19.1138716° W
Holar is a school centre and a parsonage in the Hjaltadalur valley.
About the year 1106, it was decided to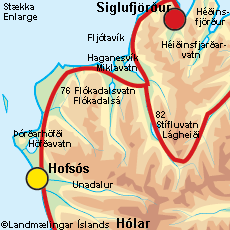 divide the country into two sees and the proprietor of Holar donated the
place "For the sake of god and the necessity of the holy church". Holar was the episcopal seat for the northern see, and a cultural- and educational centre for almost 7 centuries (1106-1798). The school was abolished in 1802. Many topographical names within the Holar area remind of its history.
The present church was said to be fully constructed in 1763, when it was consecrated on the 20th of November. In 1881, the district authorities of Skagafjordur bought Holar and established an agricultural college there.
Holar is now the seat of one of two ordaining bishops in Iceland. The other one is seated at Skalholt, the original episcopal seat (1056-1801). The episcopal seat has been the capital of the country since 1801.
Natural hot water was pipelined to Holar from the farm Reykir in 1980 and 1981. A detour into the Hjaltadalur valley to Holar is well worth the time and to the farm Nedri-As, where archaeological excavations lead to the discovery the ruins of one of the oldest churches of the country.
The Holar University College is a growing institution offering quality graduate and undergraduate education and a strong research programme. The institution is an internationally recognised centre for education and research in three highly specialized fields; equine science, aqua-culture and aquatic biology, and tourism studies.
The main goal of the Holar University College is to enhance knowledge and professionalism in the economic sectors and cultural activities related to its fields of specialisation. The institution contributes significantly to the academic and professional communities both locally and globally by high standards in teaching, vigorous research programs, strong industry relations and active transnational collaboration. Hólar University College offers excellent research and study facilities.
Currently there are three academic departments:
Aquaculture and fish biology
Equine studies
Rural Tourism
Hiking Trails. All over the country, the old routes most used in ancient times have sprung to life again as the modern hiking trails. Many of them have already been marked and others have to wait for the endeavours of the future generations, depending on their interest in healthy outdoor activity.
Holar in Hjaltadal is on nat.is North Iceland Saga Trail
Holar in Hjaltadal in Icelandic
WHAT TO SEE?

Nearby HOLAR VALLEY HJALTADALUR – DISTRICT SKAGAFJORDUR
WHAT TO DO?

Nearby HOLAR VALLEY HJALTADALUR – DISTRICT SKAGAFJORDUR
WHERE TO STAY?

Nearby HOLAR VALLEY HJALTADALUR – DISTRICT SKAGAFJORDUR