Asbjarnarvotn Lakes
Region:
North Iceland
Coordinates:
65.0396182° N 18.7852219° W
These lakes are within the District Skagafjordur. They are situated a short distance north of glacier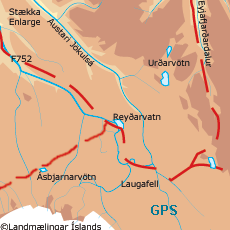 Hofsjokull. They are rather shallow and have an area of 1,2 km² at 776 m above sea level. They are among the highest situated lakes of the country. During dry spells in summer the road up there is passable by most vehicles.
Surroundings of the lakes are mainly old and barren moraines and some vegetation on the lake shores and river banks. The lakes abound in lake char and the occasional brown trout. The fishes are rather small, probably because the lakes have not been netted for a long time. The number of rods is not limited.
Distance from the capital is about 432 km (road no. 1and through the valley Vesturdalur) or 235 km by a 4wd vehicle across the Kjalvegur route.
WHAT TO SEE?

Nearby Asbjarnarvotn Lakes
WHAT TO DO?

Nearby Asbjarnarvotn Lakes
WHERE TO STAY?

Nearby Asbjarnarvotn Lakes