East Iceland Saga
Region:
East Iceland
Coordinates:
64.8172307° N 14.240154° W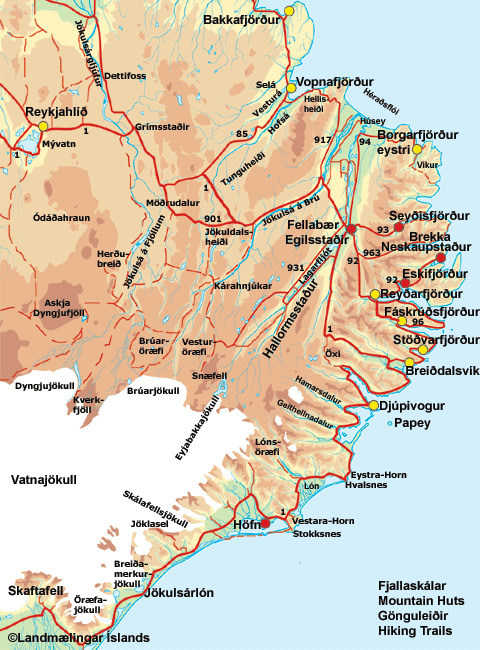 Saga Trail:
Fljotsdalur area
ADALBOL
BJARNAREY
BRU FARM
BRUARDALIR
EIDAR
GROF EGILSSTADIR
HRAFNKELLSDALUR
JOKULDALUR
MOORLAND JOKULDALSHEIDI
JOKULSA A BRU
KLAUSTURSEL
LAGARFLJOT
LAUGARVALLADALUR
MIÐHUS
PARTHUS
SKRIDDALUR
SRIDUKLAUSTUR
UNAOS
VALTHJOLFSDALUR CHURCH
Saga Trail:
Vopnafjordur area
BUSTAFELL
BJARNAREY
HELLISHEIDI EAST MOORLAND
Saga Trail:
Borgarfjordur east
BAKKAGERDI CHURCH
BREIDAVIK
DYRFJOLL
NADDI LEGED
FAGRIHOLL
ALFHOLL ELF MOUND
NJARDVIK
KJOLSVIK
STORURD
Saga Trail:
Faskrudsfjordur – Eskifjordur – Reydarfjordur – Nordfjordur
Seyðisfjordur
BARDANESHORN
HAFNARNES
HELGUSTADIR
HOLMATINDUR
SANDFELL
SKRUDUR ISLAND
VIDFJORDUR
DVERGASTEINN
SELEY ISLAND
SVINASKALASTEKKUR
Saga Trail:
Breiddalsvik – Djupivogur – Hofn
BERFJORDUR
BREIDDALUR CENTRAL VOLCANO
FOSSA
GAUTAVIK
GEITHELLNADALUR
HOF ALFTAFJORDUR
HAMARSDALUR
HEYDALIR
HVALNES
LAMBATUGNAJOKULL
PAPEY ISLAND
TEIGARHORN
THVOTTA
Icelandic Saga:
Saga trail South
Saga trail East
Saga trail North
Saga trail Strandir
Saga trail Westfjords
Saga trail West
Saga trail Reykjavik area
Saga trail Reykjanes
Saga trail Highland
According to the Book of Settlements and the Sturlunga Saga,
many murders, executions and slayings took place in Iceland.
WHAT TO SEE?

Nearby East Iceland Saga
WHAT TO DO?

Nearby East Iceland Saga
WHERE TO STAY?

Nearby East Iceland Saga