HRAFNKELSDALUR
Region:
East Iceland
Coordinates:
65.31835° N 15.3257529° W
This valley is about 18 kilometres long before it splits into two valleys further south. It is situated to the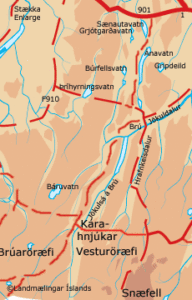 south of the farm Bru in the Jokuldalur valley. It is reasonably flat and lies about 400 m above sea level. Despite the elevation, it is quite well vegetated and has some thermal activity in a few places. The name of the valley is derived from the name of the farmer and chieftain Hrafnkell, who lived there at the farm Adalbol during the saga period.
One of the shortest and most interesting of the Icelandic sagas tells his biography.
Ancient ruins lie scattered all over the valley, which probably go to show, that many more people lived there in the past. A 4wd track leads into the central highlands from the valley. Up there one might expect to see some herds of reindeers and a few interesting places of natural beauty, such as the highest freestanding mountain of the country, Snaefell and a part of the vast Vatnajokull icecap.
WHAT TO SEE?

Nearby HRAFNKELSDALUR
WHAT TO DO?

Nearby HRAFNKELSDALUR
WHERE TO STAY?

Nearby HRAFNKELSDALUR