Faskrudsfjordur
Region:
East Iceland
Coordinates:
64.929288° N 14.0121128° W
Weather:
°C, Wind at km/h, % Humidity
Population:
662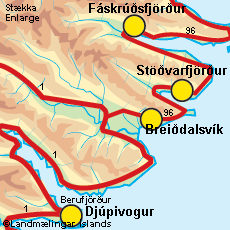 The village Budir is situated at the end of the bay Faskrudsfjordur. The Co-operative Society there operates a shop, a fishing outfit, a fish processing and a fish meal factory. Late in the 19th and early in the 20th centuries French fishing vessels were serviced there and the French built a hospital and secured sacred ground for the burial of the fishermen, who died on the long fishing expeditions to the Icelandic fishing grounds. Altogether 49 French and Belgians lie buried there. The hospital building was moved to the head of the bay and its decayed remains are still standing. The locals celebrate "The French Days" annually, and the streets of the village also have french names.
All around the village are beautiful and interesting natural phenomena to be seen in the rugged, mountainous landscape.
Photo Credit: Visitfjardarbyggd.is
Get an education when travel:
WHAT TO SEE?

in Faskrudsfjordur
WHAT TO DO?

Nearby Faskrudsfjordur
WHERE TO STAY?

Nearby Faskrudsfjordur