GOLF CLUB DJUPIVOGUR
Region:
East Iceland
Coordinates:
64.676888° N 14.2980509° W
Golf Club Djupivogur was established in the autumn of 1991. The design and construction of its golf course started immediately about 10 kilometres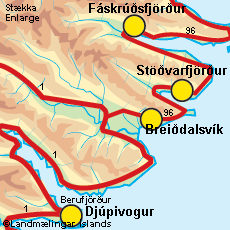 west of the village at Farm Hamar on the Hamar Bay. In 1999, a training area was opened. A new club house was finished in 2004.
This village at the head of the bay Berufiord developed around an important trading post in the past. In 1589 the German Hansa merchants were granted a trading license there by the Danish king.
Golf Club Djupivogur in Icelandic
WHAT TO SEE?

Nearby GOLF CLUB DJUPIVOGUR
WHAT TO DO?

Nearby GOLF CLUB DJUPIVOGUR
WHERE TO STAY?

Nearby GOLF CLUB DJUPIVOGUR