SAUDLEYSUVATN
Region:
Highland
Coordinates:
64.1213782° N 19.4589518° W
Lake Saudleysuvatn is situated between four barren hyaloclastite mountains at 581 m above sea level a short distance to the west of thelodges at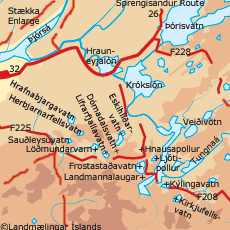 Landmannahellir on the Landmanna Route (Domadalur Route   It is hidden from the passers by on the mountain track and is not accessible by car.
The catch consists mainly of small lake char, but some bigger fishes in-between.
Lake Saudleysuvatn in Icelandic
WHAT TO SEE?

Nearby SAUDLEYSUVATN
WHAT TO DO?

Nearby SAUDLEYSUVATN
WHERE TO STAY?

Nearby SAUDLEYSUVATN