LJOTIPOLLUR
Region:
Highland
Coordinates:
64.1201782° N 19.2389518° W
This lake occupies the southernmost crater of the long eruptive fissure, which was created during an enormous eruption in 1477. In spite of its name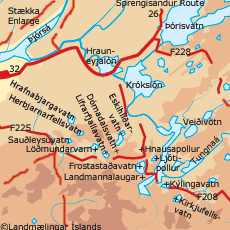 the crater is uniquely impressive and the surroundings stands no comparison to other such natural phenomena in the country. Its deepest point is said to be 14 m deep and the Brown Trout catch is so good, that the anglers have had difficulties in carrying it up the steep and loose slopes of its inside.
The crater lake has an area of 0,43 km². The track up to its rim is too steep for 2wd vehicles. Its fishing hut is Landmannahellir, but the tourist hut in Landmannalaugar is closer by. The crater area is a nature reserve, hence it is not permitted to pitch tents there. The distance from the capital is about 185 km. 

WHAT TO SEE?

Nearby LJOTIPOLLUR
WHAT TO DO?

Nearby LJOTIPOLLUR
WHERE TO STAY?

Nearby LJOTIPOLLUR