KIRKJUFELLSVATN
Region:
Highland
Coordinates:
64.1401782° N 19.2489518° W
This lake is situated at the eastern foot of the mountain Kirkjufell  (964m) and its discharge, Kirkjufellsos, enters the glacial river Tungnaa. Its area is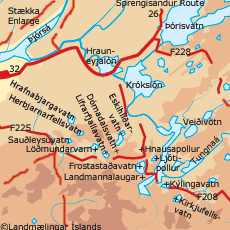 0,9 km² and it lies at 573 m above sea level. It is just south of the Landmannaleid route and easily accessible by car. Its surroundings are well vegetated and beautiful. In earlier times more brown  trout was caught there, but nowadays the lake char is gradually taking over.
The char probably runs up the discharge from river Tungnaa. When the lake was fished more, the fishes were much larger.  A little fishing hut is located east of the lake and another one is visible from the main road in the Kylingar area. The areas south and west of the lake are nature reserves. The distance from the capital is about 190 km.
WHAT TO SEE?

Nearby KIRKJUFELLSVATN
WHAT TO DO?

Nearby KIRKJUFELLSVATN
WHERE TO STAY?

Nearby KIRKJUFELLSVATN