ESKIHLIDARVATN
Region:
Highland
Coordinates:
64.1201782° N 19.3189518° W
This is quite a good fishing lake. It has an area of 1,53 km². Its deepest point is 27 m and it is situated at 528 m above sea level. No streams feed it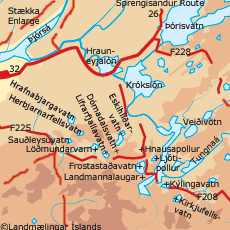 and there is no visible discharge.
It is easily reached by car and its surroundings are beautiful. It abounds in lake char, 2-5 pounders. It was said to be fishless until both brown trout and lake char were released into it. The brown trout seems to have disappeared gradually. The fishing hut is at Landmannahellir. The distance from the capital is about 170 km.
WHAT TO SEE?

Nearby ESKIHLIDARVATN
WHAT TO DO?

Nearby ESKIHLIDARVATN
WHERE TO STAY?

Nearby ESKIHLIDARVATN