HERBJARNARFELLSVATN
Region:
Highland
Coordinates:
64.1813782° N 19.4589518° W
Lake Herbjarnarfellsvatn is situated 625 m above sea level to the northwest of the lodges at Landmannahellir and a passable track leads to its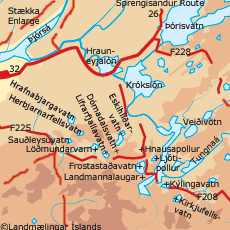 southern shore.
The catch fluctuates and consists of brown trout (1½-2 pounders).  The lake is not much frequented by anglers.
WHAT TO SEE?

Nearby HERBJARNARFELLSVATN
WHAT TO DO?

Nearby HERBJARNARFELLSVATN
WHERE TO STAY?

Nearby HERBJARNARFELLSVATN