Lakes of The Fjallabak Area
Region:
Highland
Coordinates:
64.1213782° N 19.4589518° W
Fish are abundant in most of these areas. Over the past decades, some lakes have been netted to decrease their number and increase their average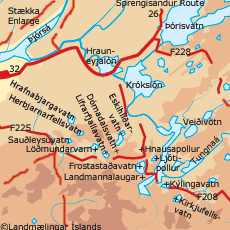 size. The fish caught in these lakes are often quite large and typically very tasty. The lakes are located in one of the most colorful and beautiful areas of the country. During the summer, the roads are passable and these areas are accessible by most vehicles. The route is called Landmannaleid, "The route behind the mountains.
The middle route is a bit further south and just north of the fourth largest glacier, Myrdalsjokul. While it may not always be as colorful, it still offers majestic landscapes. It is only passable by jeeps. This part of the country is ideal for short excursions, hiking and mountaineering
on Mount Hekla. On this route are a few small lakes, such as lake Alftavatn (near the hiking trail between Landmannalaugar and Thorsmork.
COMBINE ANGLING, HIKING AND BIRD WATCHING!
Enjoy the peace and quiet of the landscapes!
Lakes of Fjallabak area.
One license for all lakes.
Saudleysuvatn
Hrafnabjargavatn
Lodmundarvatn
Herbjarnarfellsvatn
Lifrafjallavatn
Domadalsvatn
Eskihlidarvatn
Hnausapollur
Frostastadavatn
Ljotipollur
Blautaver
Kylinavatn
Kirkjufellsvatn
WHAT TO SEE?

Nearby Lakes of The Fjallabak Area
WHAT TO DO?

Nearby Lakes of The Fjallabak Area
WHERE TO STAY?

Nearby Lakes of The Fjallabak Area