LODMUNDARVATN Fjallabak area
Region:
Highland
Coordinates:
64.1013782° N 19.4089518° W
This lake has an area of 0,75 km² and lies 590 m above sea level. Very little water empties into it on the surface and its discharge, River Helliskvisl,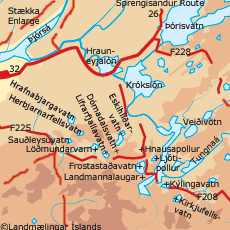 disappears into the permeable lava field a short distance further west.
The lake contains some small lake char and there is a fishing huts near it. Camping is not permitted everywhere in this nature reserve. There is no limit to the number of rods per day.
The distance from the capital is about 165 km.
WHAT TO SEE?

Nearby LODMUNDARVATN Fjallabak area
WHAT TO DO?

Nearby LODMUNDARVATN Fjallabak area
WHERE TO STAY?

Nearby LODMUNDARVATN Fjallabak area