BLAUTAVER
Region:
Highland
Coordinates:
64.1601782° N 19.2289518° W
Lake Blautaver is situated near River Tungnaa, just north of Lake Ljotipollur.  The best times for fishing are the early part of summer and during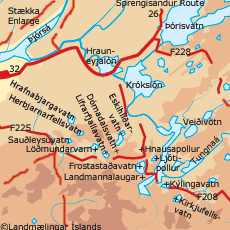 autumn, when the lake is not coloured by meltwater.
The catch consists of lake char (1 pounders) and brown trout (1-2 pounders).  Sometimes larger fishes are caught.  The lake is accessible by car from Lake Ljotipollur.
WHAT TO SEE?

Nearby BLAUTAVER
WHAT TO DO?

Nearby BLAUTAVER
WHERE TO STAY?

Nearby BLAUTAVER