HRAFNABJARGAVATN
Region:
Highland
Coordinates:
64.1813782° N 19.4589518° W
Lake Hrafnabjargavatn is located near the Landmanna Route.  It is about 1,2 km long and 550 m above sea level.  It has no surface catchment or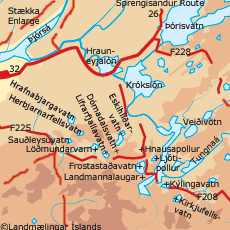 discharge area. It can be reached by jeep.
The lake was devoid of fish until lake char fries were released into it. Now it abounds in rather small char.  The anglers' lodge is at Landmannaahellir.  This lake is within the Fjallabak Nature Reserve.

WHAT TO SEE?

Nearby HRAFNABJARGAVATN
WHAT TO DO?

Nearby HRAFNABJARGAVATN
WHERE TO STAY?

Nearby HRAFNABJARGAVATN