TJALDVATN Veidvotn area
Region:
Highland
Coordinates:
64.1389° N 18.8064° W
The largest vegetated area of the Veidivotn region is to be found on lake Tjaldvatn. The lake is situated at 577 m above sea level and has an area of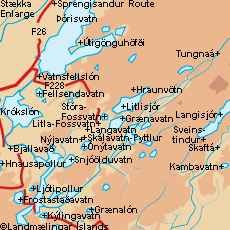 0,1 km. Its volume is 0,1 Gl, its greatest depth is 9,7 m and the average depth 1,1 m. It is 0,4 km long and 0,3 km wide.
The fishing lodge there is called Tjarnarkot and there are ruins of earlier huts, declared inviolate, in the vicinity. In 1967 The Tourist Club of Iceland built a hospice for 80 persons on the lake. Now it is the common property of the TCI and Fishing Society of the lakes. South of the lake are two hills, The Mid Morning Hill and The Noon Hill, both used as landmarks for chronological determination by those who stayed by the lake.
WHAT TO SEE?

Nearby TJALDVATN Veidvotn area
WHAT TO DO?

Nearby TJALDVATN Veidvotn area
WHERE TO STAY?

Nearby TJALDVATN Veidvotn area