REYKJARFJARDARA
Region:
Strandir
Coordinates:
65.9412383° N 21.5911947° W
This is rather a small and a short river with its origin in the mountains. It runs through the Reykjafjardara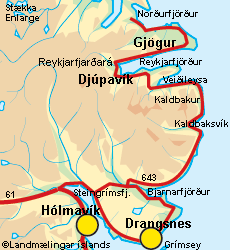 valley and spills into bay Reykjafjordur. The valley is well vegetated and the mountain landscapes around are beautiful.
The main road crosses the lower part of the river and continues to the hamlet Gjogur and  along the Reykjanes peninsula to the bay Ingolfsfjordur. The catch consists of sea char and has been quite good.
The distance from the capital is about 400 km, about 85 km from Holmavik and just a stone's throw away from Djupavik.
Reykjafjardara is not selling fishing permits!!!
WHAT TO SEE?

Nearby REYKJARFJARDARA
WHAT TO DO?

Nearby REYKJARFJARDARA
WHERE TO STAY?

Nearby REYKJARFJARDARA