Bus Schedule: KLAUSTUR-LAKI
Region:
South Iceland
Coordinates:
63.9746979° N 18.3726653° W
BUY TICKETS ONLINE NOW!

Direct from Supplier – No Additional Fees
Please note that unless a seat is booked in advance bus copany's can not guarantee availability
Departure from Kirkjubaejarklaustur at 09:00 (9am).
The Laki crater is a spectacular natural phenomenon and only accessible by 4×4 vehicles.  Laki's eruptions in 1783 are considered one of the the worst natural disasters in history, reshaping the landscape of Iceland, by spewing out 30 billion tons of lava, and gases which caused the "haze famine" that killed thousands of Icelanders, and most of its horses! The 25-kilometer long volcanic fissure with some 100-crater cones erupted in the year 1783. The resultant mass of emitted lava is considered to be the largest ever in historical times or about 565 sq.km / 12 cu.km. Most of the craters stand 20 – 50 meters tall, the highest rising up to 100 meters over the surroundings. The material is black and red scoria and lava-splatters; some are even made of solid lava. Ideal area for hiking lovers with a 3-3,5 hour stop, offering enough time to explore the surroundings.
Please note: Schedule according to road and weather condition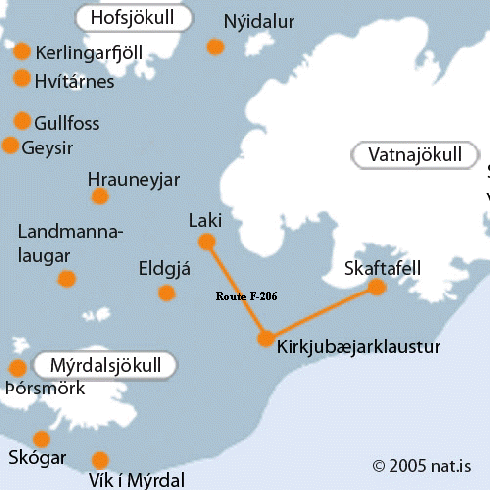 Secure Your Place on the Bus – Please Book in Advance
bus tours to Laki only available booking online
Lakagigar Mountain Expedition
Duration 8 hours. Departure from Kirkjubæjarklaustur
Join the full day tour Duration 8 hours
Departure from Kirkjubæjarklaustur
to Lakagigar Craters in Vatnajokull National Park. You will travel on a Super Jeep specially modified in Iceland to be able to deal with the tough surroundings in the highlands and on glaciers. The main focus is on individuals on these guided small-group tours with a maximum of 12 passengers.
ISK 35.000 per person 50% discount for child 0-12 years old.

Photo Credit: Fjolverk ehf – Secret Iceland
More about Iceland when travel:
Get an education when travel:
WHAT TO SEE?

Nearby Bus Schedule: KLAUSTUR-LAKI
WHAT TO DO?

Nearby Bus Schedule: KLAUSTUR-LAKI
WHERE TO STAY?

Nearby Bus Schedule: KLAUSTUR-LAKI