Blagil – Skaftarhreppur
Region:
Highland
Coordinates:
63.87° N 18.17002° W
The mountain hut in Blágil is located 15 km south of Lakagígar. The hut has sleeping bag facilities for 18 people. There are kitchen and dining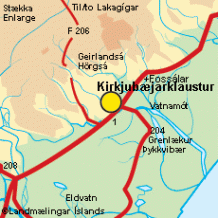 facilities and the hut is heated with gas. The toilet is located outside the hut. Outside the hut there is also a camping area. The hut is open for booking all the year round.
More about Iceland when Travel:
Camping in Iceland
Hiking in Iceland
Swimming pools
Golf Courses
Angling in Iceland
Highlands Routes
Highland Travel Guide
Bus Schedule in Iceland
WHAT TO SEE?

Nearby Blagil – Skaftarhreppur
WHAT TO DO?

Nearby Blagil – Skaftarhreppur
WHERE TO STAY?

Nearby Blagil – Skaftarhreppur