Vikur Hiking Trails – Borgarfjordur East
Region:
East Iceland
Coordinates:
65.5265799° N 13.8182045° W
Hiking time:
Various
Difficulty:
moderate
Length:
Various km
Elevation:
Various m
Highest Point:
Var m
Viknaslod Hiking Trails
Borgarfjordur – Brunavik
Borgarfjordur – Brunavik across Brunavik Pass (400m)
Borgarfjordur – Brunavik pass Hofstrandarskard (321m)
Borgarfjordur – Breidavik (Gagnheidi)
Borgarfjordur – Brunavik – Breidavik
Borgarfjordur – Breidavik – Husavik
Borgarfjordur – Lodmundarfjordur
Borgarfjordur – Lodmundarfjordur 2 Urdarholar – Viknaheidi
Holaland – Bakkagerdi – Storurd
Vatnsskard – Storurd
Unaos – Stapavik – Njardvik
Geitavik – Hrafnatindur – Bakkagerdi
Lodmundarfjordur – Seydisfjordur
Hiking Maps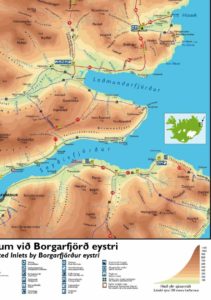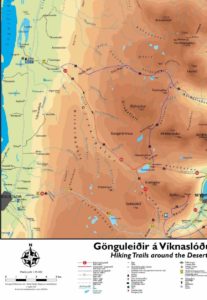 The Vikur Coves (or Inlets) are located between the bays Lodmundarfjordur and Borgarfjordur east in the Eastfjors' area. They are Alftavik, Husavik, Herjolfsvik, Litlavik, Breidavik, Svinavik, Kjolsvik, Glettinganes, Hvalvik, and Grunavik. All of them were inhabited in the past except Herjolfsvik.
The Coves are a part of the Borgarfjordur county. This part of the country is among the most popular and beautiful hiking areas of Iceland.  Picturesque, high, and steep mountains separate them and overland travels in the area were difficult. The easiest transport routes were on sea during the inhabitancy of the Coves.
Altogether 11 farms were inhabited there and the last one was abandoned in 1973. Now they are all abandoned. In 1973, the inhabitants of cove Husavik were the last one to leave. Cove Alftavik was inhabited to 1904, Litlavik to 1945, Breidavik to 1947, Kjolsvik to 1938, Glettingsnes to 1952, and Brunavik to 1944. The inhabitancy of cove Hvalvik was irregular until 1842.
WHAT TO SEE?

Nearby Vikur Hiking Trails – Borgarfjordur East
WHAT TO DO?

Nearby Vikur Hiking Trails – Borgarfjordur East
WHERE TO STAY?

Nearby Vikur Hiking Trails – Borgarfjordur East 954