Fjallabak Sydra Route
Region:
Highland
Coordinates:
63.702° N 18.969° W
The Fjallabak sydra (south) or middle route lies from the west to east just north of the Myrdal's glacier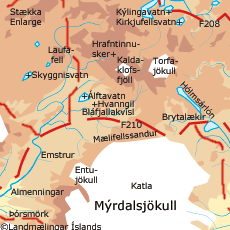 in the South. It is recommended for 4wd vehicles. It starts at the parsonage Keldur and continues through very barren lava areas, desolated mainly by the volcanoes Hekla and Katla during the centuries. En route are two tourist huts on the lake Alftavatn, one of them for hikers, and the third one, a refuge for the farmers during the rounding up of the sheep in autumn, but also open to the travellers, when it is not occupied by the owners.
In the past this route was frequented by the farmers in the east, when they had to travel to the trading post
Eyrarbakki in the west to purchase necessities. It was preferred to the route along the south coast because there were less obstacles to tackle. There are quite a few places of interest enroute and ideal areas for short or long hikes.

Driving Fjallabak Middel Route 
Accommodations in Fjallabak area
Get an education when travel:
WHAT TO SEE?

Nearby Fjallabak Sydra Route
WHAT TO DO?

Nearby Fjallabak Sydra Route
WHERE TO STAY?

Nearby Fjallabak Sydra Route