GLJUFRAVATN
Region:
East Iceland
Coordinates:
65.36668743° N 14.464846° W
Lake Gljufravatn, in the Fljotdalsherad Region in the East, has an area of 0,25 km². It is shallow and situated 48 m above sea level. River Fiskilaekur, the discharge of lake Thorisvatn, empties into it and its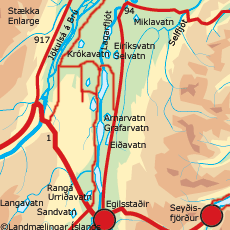 discharge,
Galtastadalaekur, tributes to the glacial river Jokulsa á Bru. The catch consists mainly of small brown trout, but some lake char is also caught. The walking distance to the lake is about 2,5 km.
The distance from the capital is about 738 km and some 40 km from Egilsstadir.
WHAT TO SEE?

Nearby GLJUFRAVATN
WHAT TO DO?

Nearby GLJUFRAVATN
WHERE TO STAY?

Nearby GLJUFRAVATN