Brjanslaekur
Region:
Westfjords
Coordinates:
65.5366° N 23.1856° W
Weather:
°C, Wind at km/h, % Humidity
Population:
10
Brjanslaekur, an ancient manor and parsonage, is situated at the head of Bay Vatnsfjordur. During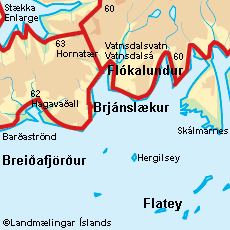 catholic times the patron saint of its church was St. Gregorius. Hamlet Brjanslaekur is one of the two end stations of the car ferry Baldur and the location of a small fishing outfit. South of it, down by the sea, are old ruins called Floka ruins. They were named after one of the three discoverers of the country,
Raven-Floki. He had ravens with him on his way to the country to decide where the nearest country was located
by releasing them at intervals. He climbed a mountain in the area and saw a bay further north filled with pack ice and named the country accordingly. Thick strata of clear and intact fossilized plants and tree trunks have been found in a gully just above the hamlet.
Flokalundur is a nicely situated hotel 6 km from the hamlet with a nearby swimming pool, a salmon river and a trout and char fishing lake.
The distance from the capital is 371 km by road and by the Whale Bay tunnel and about 172 km by car to Stykkisholmur and 72 km by the car ferry from there.
Brjanslaekur is also part of Bardastrond.
Brjanslaekur is on saga trail Westfjords
Flokalundur and Brjanslaekur in Icelandic
Get an education when travel:
WHAT TO SEE?

in Brjanslaekur
WHAT TO DO?

Nearby Brjanslaekur
WHERE TO STAY?

Nearby Brjanslaekur