Flokalundur
Region:
Westfjords
Coordinates:
65.5766° N 23.1656° W
Flokalundur is a nicely situated hotel 6 km from the hamlet Brjanslaekur with a nearby swimming pool,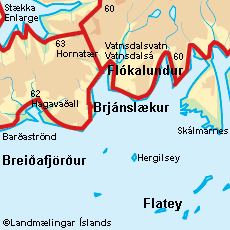 camping site a salmon river and a trout and char fishing lake.
Within a walking distance from the hotel is Hellislaug, a natural geothermal pool on the shoreline of Breiðafjörður Bay. The natural surrounding with its unspoiled wildlife is breathtakingly unique. The hot spring is loaded from rocks and is very pleasant to relax in while enjoying the wonderful view of Breiðafjörður Bay.
Get an education when travel:
WHAT TO SEE?

Nearby Flokalundur
WHAT TO DO?

Nearby Flokalundur
WHERE TO STAY?

Nearby Flokalundur