KVIABRYGGJA
Region:
West Iceland
Coordinates:
64.9247° N 23.2904° W
Kviabryggja was built in 1963, and has been a low security prison operated by the municipal authorities of the capital in the past to keep the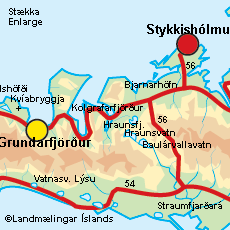 unfortunates, who owed alimony. This method of atonement was abolished and now the prison accommodates juvenile delinquents, first offernders, and those who are not considered a great menace to society.
In the past, Kviabryggja was the main fishing station on the Grundarfjordur Bay until the new harbour at Grafarnes was constructed in the early 20th century.
WHAT TO SEE?

Nearby KVIABRYGGJA
WHAT TO DO?

Nearby KVIABRYGGJA
WHERE TO STAY?

Nearby KVIABRYGGJA