Kirkjufell & Kirkjufellsfoss
Region:
West Iceland
Coordinates:
64.9416667° N 23.3069444° W
Hiking time:
Difficulty:
easy
Length:
km
Elevation:
m
Highest Point:
m
About Kirkjufell
Mt Kirkjufell (463m) is a beautifully shaped and a symmetric, free standing mountain on the northern coastline of the Snaefell's Peninsula to the west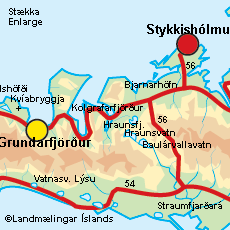 of the Grundarfiord Bay.
It is a save challenge for mountaineers with some experience despite some fatal accidents in the past. To its west is another free standing mountain, Stodin. Both mountains are totally severred from the peninsula's mountain massif. The creation of these mountains can be traced to the latest cold epoch of the ice age, when the glaciers and their rivers were seriously carving out the landscape.
The landscape of the northern part of the peninsula was gradually shaped during the last one million years. Danish seafarers, who frequented this part of the country in the past, called Mt Kirkjufell "The Sugar Top".
Short distance from Mt. Kirkufell is Kirkjufellsfoss, this waterfall have become the most popular place for a photo stop here in Grundarfjordur area.
Get an education when travel Snaefellsnes:
WHAT TO SEE?

Nearby Kirkjufell & Kirkjufellsfoss
WHAT TO DO?

Nearby Kirkjufell & Kirkjufellsfoss
WHERE TO STAY?

Nearby Kirkjufell & Kirkjufellsfoss 954