>
>
>
History: Flight in Iceland
History: Flight in Iceland
Schedule flight Since 1937
As an airline, Icelandair traces its roots back to 1937, when a fledgling airline, Flugfélag Akureyrar, was founded at Akureyri on the north coast of Iceland. After eight decades of operation, our history reflects the spirit of the Icelandic nation, its resourcefulness and innovation.
First flight in Iceland was 1919 in Reykjavík!!
or first flight in the world!!!!
Vordufell
1937: Giant step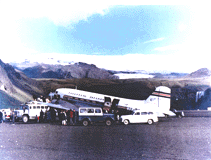 Starting commercial flights in a country of Iceland just 117,000 must have been no easy task, but on June 3, 1937, Icelanders took a bold step and set up a public company called Flugfélag Akureyrar. The man at the forefront of this initiative was Agnar Kofoed-Hansen, who later became Director-General of Civil Aviation in Iceland.
The new company bought a Waco seaplane and named it TF-ÖRN. The aircraft arrived in Iceland in spring 1938, and despite early difficulties, domestic flights began. In this image, Kristinn Jonsson, one of the company's employees, helps Agnar Kofoed-Hansen bring the mail ashore.
First flight to America 1948:

Loftleidir Icelandic received a permit to start scheduled flights between Iceland and the USA. The first flight left on August 25th that year, with much interest on both sides of the Atlantic. The flight permit was issued in accordance with an agreement made between the two countries in 1945.
In 1919 the pilot Rolf Zimsen, the nephew of the mayor of Reykjavik, was summoned to the country to explore the possibilities for domestic Sagas of Iceland communications in the air. He soon announced his choice of an airstrip in the Vatnsmyri bog near the capital and the Town Council granted an area of 93,200 m² for the purpose. At the same time the first of four joint-stock companies called Icelandair was founded and the first aeroplane was imported. It started flying on the 3rd of September. The first pilot was Cecil Faber, who stayed in Iceland for three weeks. The day after the first successful flight, the citizens were offered the possibility to see the capital and its surroundings from the air for five minutes for 25 ISK.