Askja Route F 88
Region:
Highland
Coordinates:
65.1810363° N 16.4082115° W
This is the vastest lava area of the country. The individual lava fields date back to different ages, but all of them were created during the Holocene.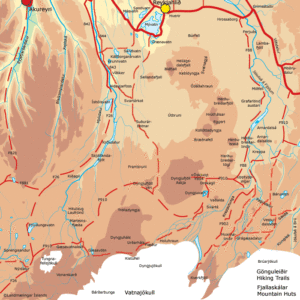 The total area of the Odadahraun is about 6000 km² and all of it is the property of the farm Reykjahlid on lake Myvatn. It is a part of the Icelandic Graben and is very volcanically active. The natural phenomena described under this title are either within or on the outskirts of the area. The area should only be accessed by 4wd vehicles or on foot. Hikers should be aware of the lack of surface water in the lava fields and bring along sufficient supplies of water. Hikers should also plan their daily progress conservatively and use maps rather than relying on their eyes, because the clear air draws all landmarks closer than they really are.
There are very few vegetated oases in the area and the few huts are not situated, where a day's hike is concluded every time. Therefore it is necessary to bring tents along. Ancient routes across this area have been discovered during the last few decades. The whole area lies in the rain shadow of the icecap Vatnajokull and the precipitation is minimal the whole year round.
The mountain massif Dyngjufjoll, similiar in size as the volcano Oraefajokull, surrounds one of the largest calderas of the country with an approximate area of 50 square kilometres. Mt Oraefajokull still stands proudly as a cone shaped volcano of the same kind as Mt St Helens in the state of Washington in the USA, but Mts Dyngjufjoll have collapsed. Its highest point is Mt Thorvaldsfjall (1510 metres), rising to the south above Lake Askja, which was created after the 1875 eruption.
In the years 1875-1880, however, it was left abandoned farms as a result of the lavish ashfall emanating from volcano Askja during an 1875 eruption
Self drive Askja Route F-88
Driving from Myvatn
Myvatn
Hrossaborg
Grafarlond Eystri
Herdubreid Herdubreidarlindir
Askja
Drekagil huts
Self drive Gaesavatnaleid (F-910)
Driving from North or South
(F-910)
Driving Sprengisandur via Nyidalur
WHAT TO SEE?

Nearby Askja Route F 88
WHAT TO DO?

Nearby Askja Route F 88
WHERE TO STAY?

Nearby Askja Route F 88