Highland Saga Gaesavotn route
Region:
Highland
Coordinates:
64.9954871° N 16.8441864° W
This route is one of the most interesting and adventurous for 4wd vehicles in the country, where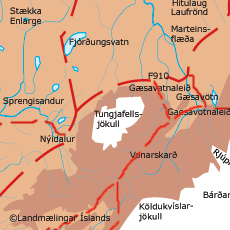 experience with the vehicles and river crossings is totally necessary. It takes you along the northern edge of the largest icecap of Europe and the terrain is so rugged that the average speed hardly exceeds 10 km/hour. It takes about nine hours to drive between the tourist huts at Nyidalur on the Sprengisandur route and Drekagil in the Askja region. To accomplish this you must take the original route, the southern one, not the new one across the lava fields closer to the shield volcano Trolladyngja. Extreme care has to be taken when fording glacial rivers and when the last one, just east of the Urðarhals, is reached the vehicles must never halt in the water during the crossing.
Gaesavotn Saga Trails:
Askja – Bardardalur Valley  – THE BARDUR ROUTE – Bardarbunga– Urdarhals – Arnardalur Valley – Marteinsflaeda – Mt Kverkfjoll – Hvannalindir
More on nat.is
WHAT TO SEE?

Nearby Highland Saga Gaesavotn route
WHAT TO DO?

Nearby Highland Saga Gaesavotn route
WHERE TO STAY?

Nearby Highland Saga Gaesavotn route