Travel Guide Reykjanes
Region:
Reykjanes
Coordinates:
63.9413° N 22.4725° W
Reykjanes (The Steamy Peninsula) is the name of the south- westernmost tip of the country. The area is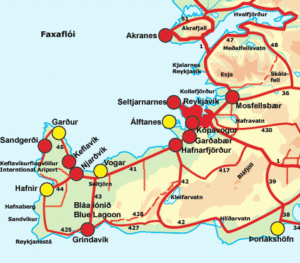 and looks very volcanically active and barren. The most conspicuous are the old shield volcanoes and the crater rows, which most probably were created in historic times.
The Reykjanes peninsula is made up of 5 municipalities; Gardur, Hafnir. Grindavik, Keflavik, Njardvik , Sandgerdi and Vogar, with the biggest one being Reykjanesbaer, Keflavik. Njardvik town, Gardur town and Hafnir town). There are around twenty thousand inhabitants on the peninsula in total.
Reykjanes peninsula is a Geopark and the only place in the world where the Mid-Atlantic Ridge is visible above sea level. The Reykjanes Geopark has 55 areas listed as geosites, such as Gunnuhver mud pool, Eldey island, Kleifarvatn lake and Reykjanes lighthouse.
On March 19th 2021 an eruption started just north west of the hiking trail Sudurlandsvegur ( R 427) to Mt. Fagradalsfjall. Earthquakes and tremours had been monitored for few weeks be for the eruption. You can see film from the third day of the eruption filmed by Runar Geirmundsson Eruption at Reykjanes peninsula.
August 3th 2022 ups!! an eruption started again near Fagradalsfjalli
July 2023,eruption at Reykjanes started again 10th of July
Keflavik (Reykjavik) International Airport
Look for popular daytours in Iceland.
More on nat.is 
WHAT TO SEE?

Nearby Travel Guide Reykjanes
WHAT TO DO?

Nearby Travel Guide Reykjanes
WHERE TO STAY?

Nearby Travel Guide Reykjanes